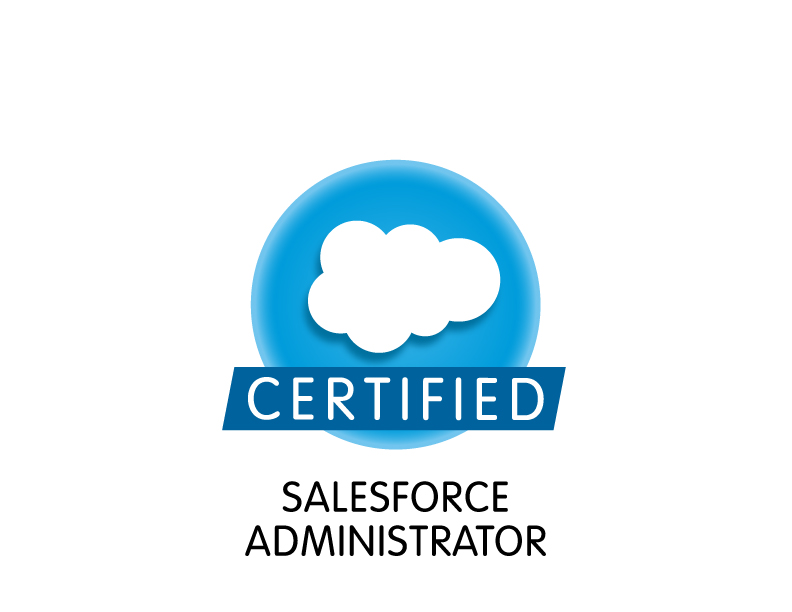 Salesforce admin , developer and app builder
BATCH STARTS
Limited Seats Available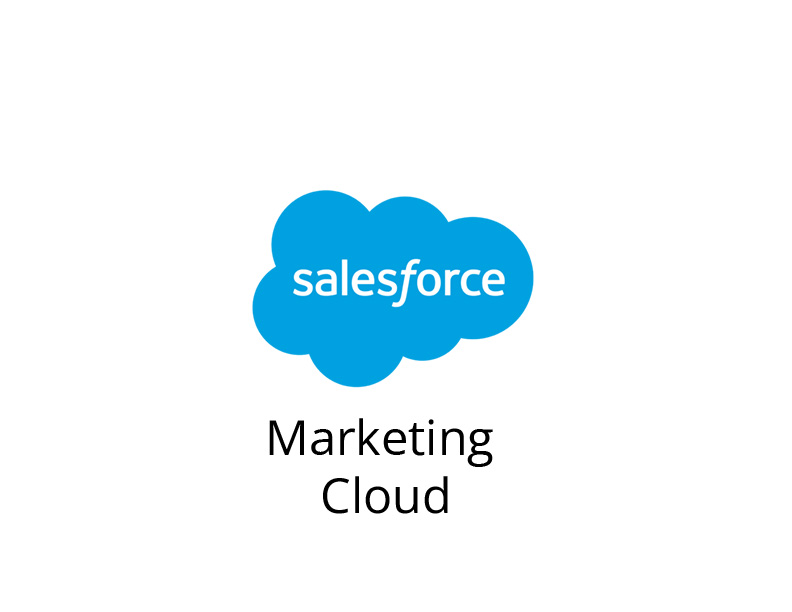 Salesforce marketing cloud
POST 12TH / INTERMEDIATE, 1ST, 2ND, 3RD YEAR
BATCH STARTS
Limited Seats Available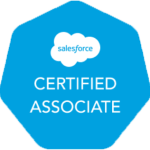 Salesforce Associate Certification
An Entry-Level Credential for New Salesforce Learner
The demand for digital skills is expected to rise by more than 50 percent by 2025, meaning the future of work will require up-skilling and being ready to take on different or entirely new roles. Preparing for the new world of work is one of the defining business problems of our time. As jobs evolve, so will the skills needed to perform them.
BATCH STARTS
Limited Seats Available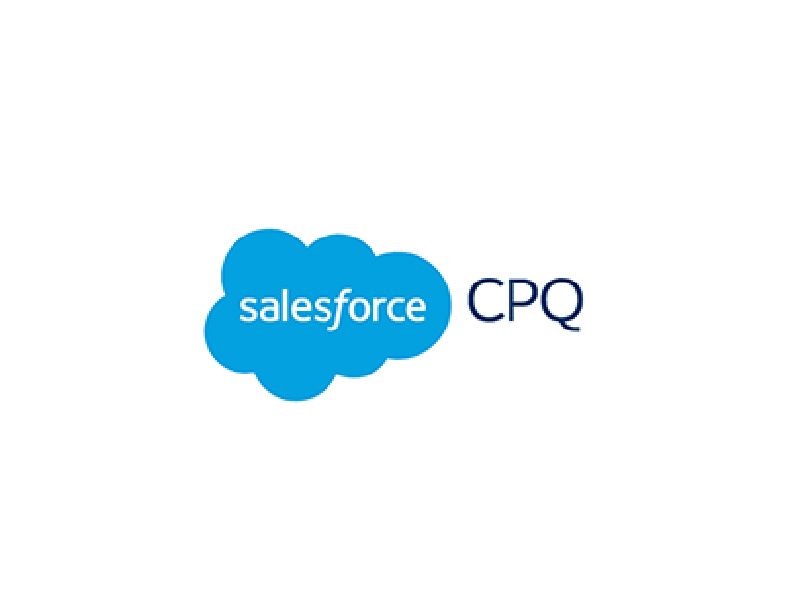 Salesforce CPQ
POST 12TH / INTERMEDIATE, 1ST, 2ND, 3RD YEAR
BATCH STARTS
Limited Seats Available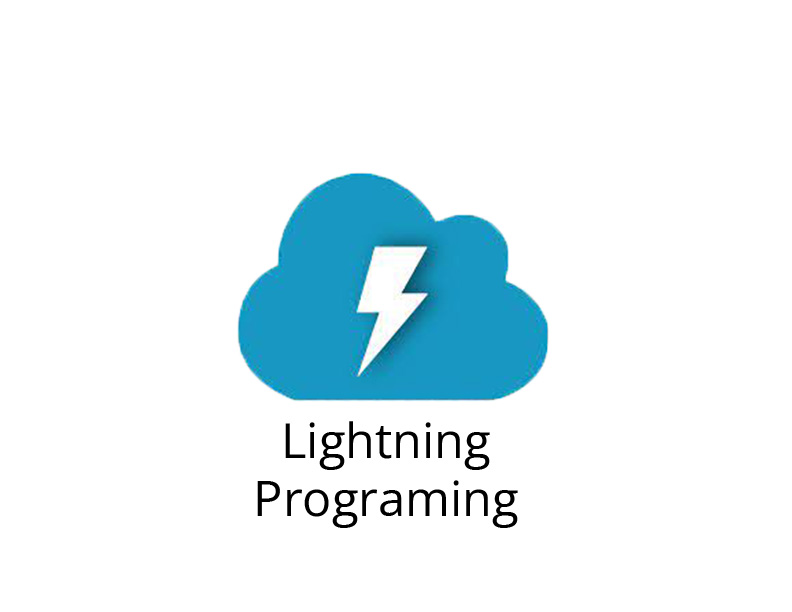 Salesforce Lightning programing
BATCH STARTS
Limited Seats Available
LEARN THE BEST FROM THE ALUMNI OF

700+ companies have hired INTELOGIK learners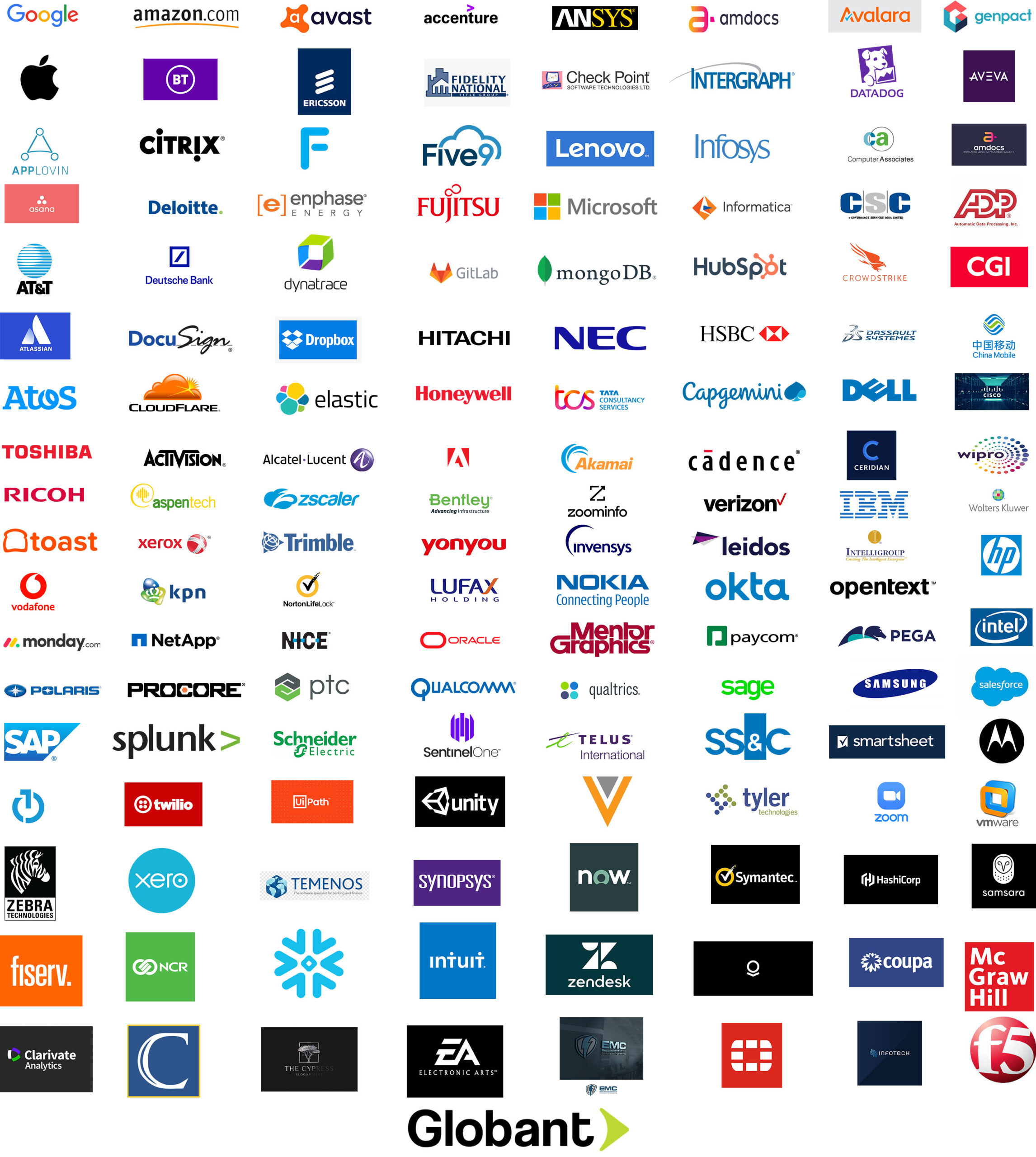 October 2022
Razaa H (USA), Bharath kumar N (AUS), Dhaneswar Y (USA), Leela Prasad (CANADA), M Sangoju (USA), Madhuvani C (AUS), Suman S P (CANADA), Bhavani S(USA), Tirumalaraju D (UAE), Neha H (AUS), Aditi (IND), Hamza (IND), Aruna K(AUS), Padmashree (IND), Venkat B (IND), Kruthika (IND), Bharati (IND), Mainuddin S (USA), Chella Raja R(SG), Rajasekharreddy G (UAE), Raja D (SG), Shravani R (AUS), Nathalie P(USA), Reshma(AUS), Swati M(USA), Venkat Reddy L (UAE), Harshada (USA), Sachin G(USA), Ayushi J (USA), Akshaykumar L (UAE), Manjula R (Europe), Harmeet Bisen (Europe), Mohammed S (CANADA), Pardeep F (NewZealand), Yeswanth Koka T (Europe), Sekhar KN (SG), Aziz Z(CANADA), Vinuta Kalki M(SG), Anvesh P R (NewZealand), Rubeena Ali (CANADA), Swapna S (NewZealand), Samikya H (CANADA), Rupali J P(USA), Hazeebu (IND), Chandana (IND), Samiya (IND),
September 2022
Urvi (IND), Vidya (AUS), Rahul (IND), Ravindra (IND), Pooja (IND), Ankita (IND), Ravi (UK), Shalvi (IND), Firdous (IND), Rushika (USA), Tanuj (IND), Amit (IND), Neha (IND), Arishma (USA), Jilumol (CANADA), Toshi (AUS), Roopal (IND), Abdullah (IND), Hari (IND), Varun (IND), Ganesh (IND), Divya (AUS), Prakash (IND), Nishant (IND), Gaikwad G(Europe), Murthy R (NZ), Mahek L (UAE), Kabya B (AUS), Omkar G (NZ), Sajjad A (Europe), Srikanth C (UK), Prathiksha H (AUS), Sravani B(UAE), Anuja V (UK), Sreeja N (USA), R Muppidi (CANADA), M Dhere(Europe), M Reddy(UAE), Aiswarya R (USA), Kalpana R (CANADA), S Tiwari (UK), S Nair (CANADA), R Kokila (USA)
August 2022
Atharva (IND), Selva (IND), Sakshi (IND), Santosh (IND), Padmashri(USA), Hima (IND), Supriya (IND), Vidya(IND), Sheik (IND), Prabha (IND), Santosh(USA), Anurag(IND), Naveen(UK), Devi(IND), Vivek(IND), Lorna(IND), Devi(IND), Rajesh(USA), Swarupa(IND), Nilesh(IND), Nikhil(IND), Anurag (IND), Ankur S(UK), Dinesh G(USA), Neha S(UK), Manideep H Arun G(USA), Prabhat K (Europe), Nipun  G(USA), Nishanth B(Europe), Kashid D(UAE), Devdatt S(UAE), Sunitha D(AUS), Deepika D(Europe), Kenneth Joseph Sri P (AUS), Sabita G(AUS), Aman K (UAE), Pragati S (NZ), Avinash K (CANADA), Aditya P(CANADA), Srushti A(NZ), Yamini K(CANADA), Mohini P (AUS), Diptonil F(CANADA)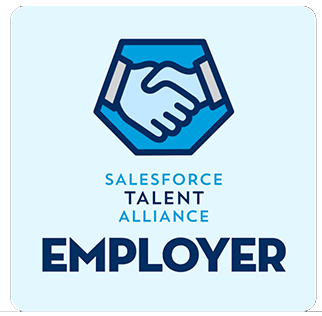 Our placement record holder team will not only help u to learn Salesforce but also will help you to build your career in Salesforce!
Placement Count Vs Year
374 In 2021
215 In 2020
196 In 2019
Thank you so much for the support sir. You are very unique trainer who is behind the students for the placement, where I have hardly seen this passion in other trainers I came across last 10 years . May god keep giving you the same passion and lovable qualities.
Manas Padhi
Hi Shekhar My Heart full Thanks To You.Each And Every line you Explaing in Coding is awesome Shekar. Before am Afraid of coding.Now Am very much Intrested in coding because of You.Thanks a lot Shehar. "You Change My life".I want to Personaly tell thanks to you so that i mail you. Thank you
Ramya Dhamarpathi
My Salesforce Success with Intelogik. I would like to share my Salesforce journey with Intelogik right from training , project, and to land in a job. I have Nothing but high regards and admiration for Shekhar who is a remarkable trainer with his unique style. In my honest opinion any training covers just the 50% the rest is the motivation and mentoring a trainer/teacher can guide you towards your goals. Myself coming from a non technical background(behavior science) and gap in my career, was able get certified in Salesforce and land in a Job is no less than a miracle. All thanks to Shekhar he is not only a trainer, a mentor above all A great human being who WILL help you through to reach your destination. Truly appreciate your help. Thank you! Thank you very much!!
Hello Sir, I got placed as Salesforce administrator in Cross Country Infotech Ltd, Pune !! I would like to thank you for guidance & teaching. This would not have been possible without your teachings.
Ankit
Hello Intelogik! Thanks for ur training services, I got my job due to your help. You are the one who changed my life path. Shekhar is the best trainer that I have ever seen. Let's stay in touch. Need your help in future.
Vasant Kumar
Even though i come from Non-IT background, the training was from very scratch level, easy to learn and increased my confidence level. Your training was and is awesome and impressive. Your way of explanation with lot of examples was very nice and remember able. Learned the concepts clearly and experienced the Real Time Projects by doing the Assignments you gave. Overall your Training was Excellent and Excellent. Best Trainer ever. No words to explain more. Thank you so much for the wishes. I also wish you to be successful person in both career and personal life
Hi Shekhar, I would like to inform you that I got the opportunity to work on SFDC at Infosys. The training I received from you helped me to move into the Salesforce field.
Kiran Patil
Thanks a million for your wonderful training. Your every single word and explanation is fantastic. You really rock in whatever you say and you are truly blessed by saraswati maa. Thanks a lot Shekhar ....m very glad to have u as my mentor and met one person in life whose so knowledgeable and talented. Stay blessed and keep rocking. Thanks a lot again.
Garima Gupta
Thank you so much for the Salesforce training that you gave to us. I am extremely happy with your skills, teaching methodology, patience levels and helpful attitude.
Thank you so much Shekhar for a wonderful voyager of Salesforce. I belong from a non technical background and now (thanks to you) I am a Salesforce Consultant in Wipro Technologies. I would highly recommend anyone to opt for Shekhar's training and reasons are numerous however the sole reason that I find is that he's the best and trust me if it worked for me then it could work for anyone. Also, his method of training is quite unique as his primarily focus is for the placement of his students. According to him, the relationship between students and trainer doesn't end with classes instead it remains for any future query a student may face while working or searching for a job and I totally believe that. In the end as a student I would like to thank you from all my heart because without all your support it must not have been possible. May God bless you.
Imtiyaz Ashraf
I am very happy with the teaching process. Thank you! Due to my work commitments, it's very difficult for me to attend every session but I go through all the videos. It's enriching.
Shekhar Sir, you are the best trainer.I am very satisfied with the way you taught and helped me to clear the concepts by giving real examples and scenarios. I was very lucky to find you as a salesforce trainer and guide. I found your teaching very interesting and deep and with the help of your guidance and support I was able to get my first salesforce job
The training you provided is best for the people who are completely new to salesforce and don't even have development background, as you taught us everything from scratch and gave real time scenarios for practice, so that we will gave real time experience. Whenever we required help regarding anything like certification, job placement or had any doubt you always provided the solution even though the training was over. I would like to thank you and inform you that I got job in Deloitte. Thank you for teaching salesforce so nicely.
I'm very satisfied with your teaching and training, you are the best(i can say straight forward) because i don't have sales force background before joining your training sessions. I learn a lot form your training, once again thank your for explanation each and every point. with your training, we will rock in future and will get more success.
Rajesh Reddy
I just want to let you know the status so far, first of all I am happy to be a part of your training sessions. Each topic that you explain is so clear that with one practice it will be understood.
Pramod Ravaluru
Hi Shekhar, I really wanted to say thanks to you. When I came to Salesforce from SAP SD , many of my friends said that you made a wrong decision in your career. and also they said without programming background it's going to be really hard for you to get a job in SF. At that time I thought is it so???? weather i made the wrong decision and I thought let's do only Admin in SF. But after joining ur class I was so happy and got the confidence I made aright decision in my career and I can be developer also. really thanks a lot.
Vibeetha Sampath
Australia
We have got always timely and quick solutions for all our issues. We are happy to be connected with Intelogik.
John Philip
Toronto, Canada
Your teaching method is really superb :), your style of giving examples makes things clear and more understandable. Really enjoying your sessions.
Shekhar, Thanks for your effort and time for the Salesforce training you have provided me. I will definitely recommend it to my friends/associate.Your lectures were very interesting and made me eager to learn more, you have used all the real-time examples that makes the students to understand better. All of your sessions are very friendly and approachable, the content is well suited for novice to advance students. Handouts/Recorded session are very useful and clear. At Last, Noone can teach this better.
I had to take time out to appreciate and thank you for 2 reasons. 1) For being an awesome trainer. It is a challenge to attend class at 10; 30 pm when the mind is sleeping. But you put in the effort to explain concepts which becomes so simple to de-code :). I stay glued in. Thumbs up for that. 2)For being an excellent Leader. When the Boss says GO The leader says Let's go!! Again for going that extra mile to hand hold newcomers and letting go when required.
Sandhya Palakodekalam
USA
Thanks a lot for explaining concepts so well sir.. I feel very lucky to have found you for Salesforce Coaching.
Kiran Kumar
You really teach well. I mean the way you teach us in class in BETTER than BEST.
Prachi Mishra
This is my first time experience in coding but, I have realized I am experience person in programming. Amazing teaching just one-time go through your recording and clear my concept. Thank you so much.
Hi shekhar sir, First of all thank you for ur support given to me from grass level, today i placed in zamil itg pune.Your training videos as well as your guidance helped me every time. And one thing i want to mention here all technical round question are from your pdf,docouments and videos.This helped me a lot to crack the technical round. Really appreciate your help
Sometimes, I cannot continue your live class because at that time I wanna to pick up my son. But, I covered my session from your video and later I asked my query. I never missed your recording session. Your way of teaching is very easy to grasp .
thanks a lot for your training, you explained each and every concept very clearly, now i totally believe that students gets the best knowledge only from a good teacher and that is you, normally the enthusiasm do come when we listen to your lectures as we can learn some thing new today, thanks for every thing sir, we are blessed that you are our trainer , we gonna miss u, hope you have everything in your life you wish for....
I really appreciate your training. Though I have programming background, Master's in Computer Science from University of Massachusetts and went through some SF developer course before though out of IT for quite some years and preparing to get beck to IT. I found your teaching very interesting, anyone can get benefit from your training.
I have completed mechanical engineering . So i don't have any basics in programming . In his training with simple examples and live assignments he made the learning procedure simpler . After completion of the course he helped me a lot to successfully clear the platform developer 1 exam.
Joseph George
I keep on listening to your recordings if I am stuck on any particular topic. And really the trainings are conducted so well, U give so many details, that just gives answers to all the questions!
Shekhar sir, I am getting good understanding in apex class , triggers because you have given some nice examples while explaining the concepts. Its improving my understanding levels. Thanks
Training by Shekhar is good. Shekhar is excellent trainer. He is fully filled with SFDC knowledge and is delivering same. He started from basics stuffs and that has really helped to learn.
Though I had already learned coding but till now I never love to do coding. But after learning coding from Shekhar I realized the reason behind not liking coding is the way our teacher teaches because they are always concerned about syllabus and not the subject and students. Now I am finding coding to be very much interesting. thanks for your help and showing me a new face of it. the way you teach is totally Different and fantastic.
We are really glad that you are our trainer, what ever time it might be your helping with out any delay , your teaching skills are excellent!! Whenever i have any doubt i can contact you and the way you helped me in resume preparation everything is awesome Thanks a lot for everything
Shekhar really i like your classes.
I took training from Shekhar sir and he is a nice guy to support if you having any problem with Salesforce. He will never let you down I took the training that time, where I don't, know anything in salesforce but now I am working as a Salesforce Developer in Reputed Company because of Shekhar sir support. Finally, I will say, Shekhar sir is an awesome and nice guy if you will take training from him he will never disappoint you that's my guarantee.
Afghan Khan
Thank you so much for your support as not only a trainer but also as a proper guide for building careers. Thanks once again sir, I think no other trainer will provide such type of support.keep on sir.
I got a job in Bank of America .Thanks for such a good teacher.
Hello Shekhar, I got a job today in Australia! I would like you to thank you very much from the bottom of my heart. Without you which is not at all possible for me to crack the interview. thank you once again. i was doing vegetable business from last 10 years. this is a very big change. you can be proud of yourself that you got me into salesforce.
Dilip Diddi
i am really impressed with your teaching you are giving your best, i am learning something new basically i am from electrical background and i have change my stream to it but your teaching makes me understand things in a very simple manner.
Shekhar is well experienced Salesforce trainer. His training methodology provides in depth knowledge. His training helped me a lot in my first project and thus gaining client confidence. Thank you so much Shekhar.
Hello Shekhar, I am writing you to say thank you for the all the efforts you had given to me for developing my skills for Salesforce course duration. I think you have a great teaching style in which you used stuff from different sources and combine them into a simplified version which will help us in easier 'digestion' of the knowledge. You are a friendly and understanding tutor, which would help us communicate with you better. So overall, I had a fun and enriching time learning from you."
Jayant Atkar
Thank you, Shekhar, for all your support and guidance. Your mentorship has been so appreciative. And your training was the best training I've personally ever experience. Your training provided me with such clarity and understanding of Salesforce features that I have had so much difficulty understanding. Keep up the good work
Robert W
Durham College, USA
Training with shekhar gave me confidence. his way of training is unique. he made us understand the basics and complex fundamentals of salesforce with simple and easy examples.
Shekhar is great instructor. The explanation is very clear and to the point. He explains difficult things easily and thoroughly. His presentation is very clear and easy to understand. I will surely recommend his training for Salesforce.
Shekhar is a one stop shop for all your needs in terms of Salesforce. He is an excellent mentor, coaches you with real time industry requirements, guides you for certification examination, job search and how to create an impact during interviews. He helped me immensely while writing a code for an assignment that I had to submit during my selection process at one of the BIG 4's.He never spoon feeds but knows how to put you in the pool so that you start swimming independently. His vast knowledge in Salesforce , promptness and his passion to guide makes you approach him without any hesitation. I would definitely recommend Shekhar for any help in Salesforce!!
Career Building Buddy For Personalized Salesforce Placements
Our dedicated Salesforce "Career Building Buddy" system will help you get guidance from more than 1 mentors till your placement.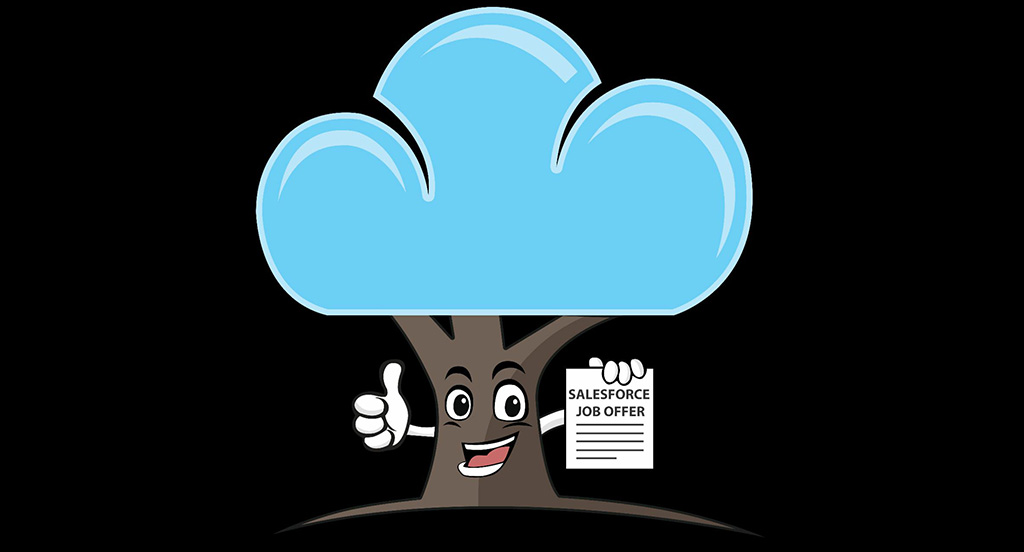 Dushyant G.
Salesforce Placement Success Story
Mukesh K.
Salesforce Placement Success Story
Rahul
Salesforce Placement Success Story
Vinay
Salesforce Placement Success Story
Patidar
Salesforce Placement Success Story
Prabhu
Salesforce Placement Success Story
Top 4 Benefits of this Program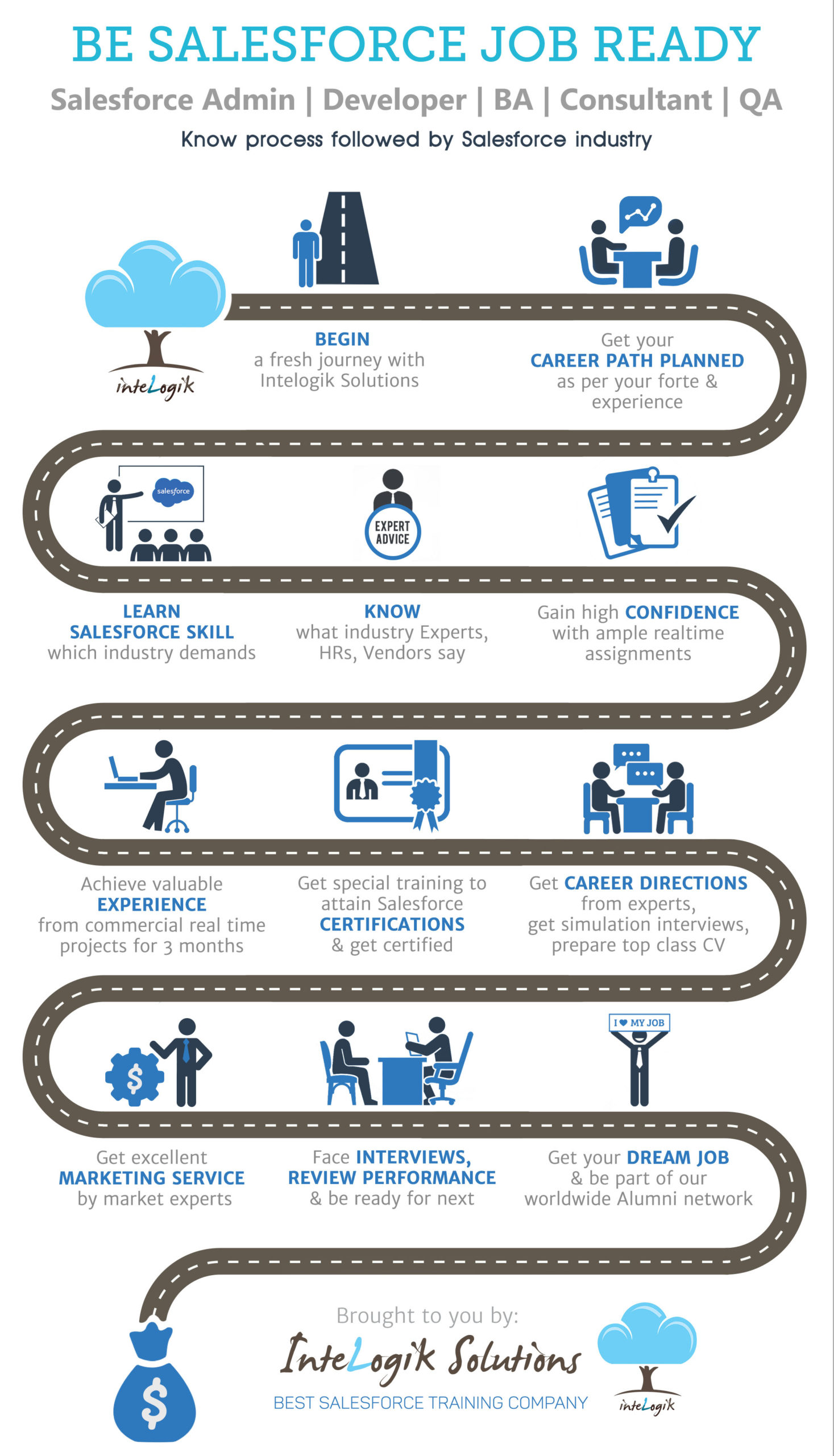 Get rid of drawbacks of Salesforce classroom training & enjoy long-term access of Salesforce training videos and other services.
Almost all companies need Salesforce certified people with real time project knowledge, no matter you are at fresher or managerial level and we at Intelogik can help you to become job ready.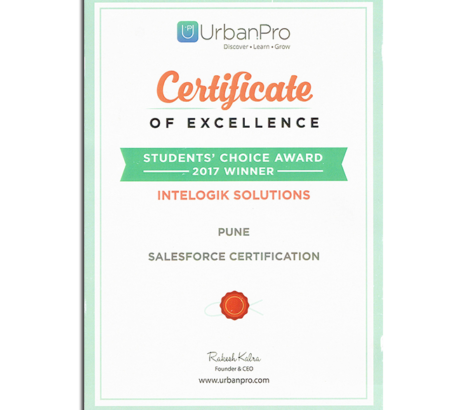 Eligibility & Pre-requisites
Student Eligibility Criteria :
–

Minimum degree level education must be completed.

–

Basic level english communication is needed.
–

Normal internet speed is needed.

–

Laptop or desktop with normal configuration.